Tal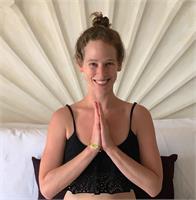 A long-time dancer, Tal has loved yoga since she took her first class in 2010, and believes that every day with yoga practice in it — is better. Her teaching is based on establishing an understanding of the body-breath connection, safe alignment with an anatomical emphasis and a pinch of humor. Tal believes in the power of communities and the energy created when individuals practice together. In her classes she aims to empower yogis to get to know their bodies, move in a challenging yet calm and joyful way, and smile.
Tal instructs the following:
This 60-minute flow links each posture and transition with the breath, creating a strong flow of movement. Great for beginning and advanced practitioners alike.




Start your day off increasing your flexibility, strength, mental clarity and overall energy levels with this dynamic 60-minute yoga practice, designed to awaken and open your body while deepening into your breath.

Plank variations to strengthen the arms and core. Sun salutations (Surya Namaskar A) to improve overall flexibility plus lunges, twists and backbends for a well rounded practice.

This Vinyasa flow practice will leave you feeling re-energized and ready to take on the rest of your day.

Great for all levels!