Renee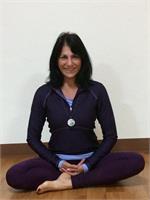 The Middle Way (Buddha)
"Truth is one, paths are many." (Gandhi)
"Start where you are." Pema Chodron
These are just some of the tenets Renee subscribes to after having discovered them thru direct experience.
There has been a disconnect from the mind and body and we are at a time in our lives where we need to reunite with ourselves and come home to our basic wholeness/perfection, which has always existed. Both Yin and Yoga Nidra are practices that offer a direct way to achieve this alignment, first with ourselves and then with the world around us. Simultaneously we discover the truth of who you are, and ultimately free ourselves of delusion, greed and hatred.
These practices influenced Renee's life on separate occasions and the desire to teach them became evident as she witnessed and embodied the practice in her own life. When she teaches, it's like they are living themselves through her each time.
Renee instructs the following:
This class is a breath-centric, slow-moving practice of deep release using a blend of yin and restorative postures to target specific areas of the body. Long holds in supported postures stimulate the parasympathetic nervous system and the immune system, encourage healthy endocrine function, and facilitate a profound sense of well-being and calm. Each class has an anatomical focus, such as hips, hamstrings, chest, lower back etc, and concludes with a deeply relaxing Yoga Nidra as savasana to bring synergy to the central nervous system. Yoga Nidra, also known as yogic sleep, is a calming form of guided meditation that melts away exhaustion, stress, tension and anxiety through simple body visualizations. A healing, restful practice for all levels.