Ali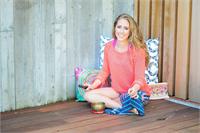 Ali came to yoga as a way to cross train for equestrian vaulting, which she continues to coach and train for internationally. Her classes are athletic and light hearted, musically inspired and filled with just enough edge. Together we will explore poses with precision and mindfulness and then step back to laugh, focus, reenergize and feel. As a disciplined elite athlete, Ali has a passion for exploring movement of all kinds, and her classes are centred around finding breath within each movement. Ali loves learning about all ways of healing and is also certified as a health coach with the Institute for Integrative Nutrition. She loves animals -especially horses, creative & healthy food, plus travel (she has just spent the last 2 years in Australia).
Ali instructs the following:
Melt away physical tension, energetic knots and chronic pain with the therapeutic poses of Yin Yoga. We will target the connective tissues, including fascia in poses that are held in stillness for 2 to 5 minutes, sometimes longer, allowing you to discover the deep layers of your body, correct imbalances and release tension. This class is a combination of meditation, self-exploration and building body awareness. It incorporates guided self-massage, using therapy balls to provide targeted trigger point healing that penetrates layers of skin and muscle to massage deeply into your high-tension areas.

There is a $3 charge for Therapy Ball rentals. Therapy Balls are also available for purchase in studio for $13.95. We encourage you to purchase your own Therapy Balls to use each time and on your own at home.




This 60-minute flow links each posture and transition with the breath, creating a strong flow of movement. Great for beginning and advanced practitioners alike.




This 75-minute class includes dynamic breathing and strong, flowing movement, creating a high-heat, high-energy Vinyasa-style practice. Power Flow is the perfect opportunity to play with your arm balances and inversions, or try something totally new! This class is good for all levels, though not remedial.