Patricia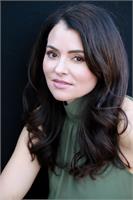 Patricia has been practicing yoga since 2003, plus she is a certified massage therapist that understands and incorporates the alignment of the muscles in the postures. She studied 200 RTY with Paul Dallagan at Centered Yoga in Koh Samui, Thailand. When teaching she hopes for her students to find balance mentally, physically, and spiritually providing them with a practice that they can embody in their daily lives off the mat.
Patricia instructs the following:
This 60-minute flow links each posture and transition with the breath, creating a strong flow of movement. Great for beginning and advanced practitioners alike.




This HIIT (High Intensity Interval Training) class will be intense yet fun! You will work your entire body and leave feeling accomplished and more fit every time. You might feel it the next day, but you will always want to come back for more! Great for all levels. All classes are barefoot. Bring a mat, towel, and water to each class.