Rondy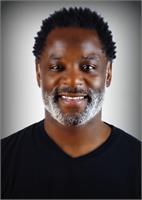 Rondy completed his registered yoga teacher certifications with Jillian Gilkbarg of the ParaYoga lineage and Jonathan Rickert power style yoga. His continuing educational studies include: Sutra philosophy with Anirudh Shastri, Tantra Yoga and The Path of Beauty and Bliss with Rod Stryker founder of ParaYoga, and alignment with Ben Thomas. Rondy recently lived in Stuttgart, Germany offering free yoga classes for Syrian, African and Albanian refugees through the Brazil for Refugees / Integration Through Art program.
Rondy instructs the following:
Stretch.Strength.Flow is designed to deepen/fortify your athletic exercise practice. This class is divided into three sections: stretching, building strength, and dynamic yoga movements combined with intelligent vinyasa-style sequencing (breathing and moving).

Rondy's goal is to bring a more balanced exercise. We'll work on flexibility to help with the ease of moving more fluently. Building strength gives students confidence and comfort when exercising or competing.

It is good for beginners, but is designed to elevate athleticism from beginners to experts!




This 60-minute flow links each posture and transition with the breath, creating a strong flow of movement. Great for beginning and advanced practitioners alike.