Gabby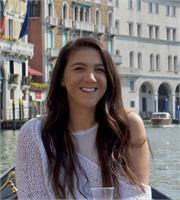 Gabby's Yoga Sculpt class will leave you feeling accomplished, sweaty and full of positive vibes. Practicing yoga religiously for over 2 years, she took the next step and became a certified Yoga Instructor through Core Power Yoga, and will never stop growing from there. She loves the authenticity and mindfulness of a great yoga class and strives to create this environment for all of her students. During Gabby's class, you will find creative strength sequencing paired with fun music and endless smiles.
Gabby instructs the following:
Yoga Sculpt classes are set to energizing music and designed to tone and sculpt every major muscle group. This class complements your regular yoga practice, while boosting your metabolism and pushing your strength and flexibility to new heights. Light weights are incorporated in a Vinyasa style sequence, intensifying each pose. This class is heated 90.