Carter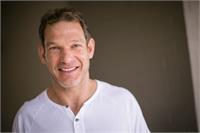 Carter is a life long fitness enthusiast, well versed in multiple strength and conditioning modalities. As a TRX instructor, he will introduce strength and functional mobility training to the studio. His class is a "must take" for those who want to improve their core strength. Also ideal for those who want to build a stronger, safer yoga practice.
He and wife Anjanette, along with a daily diet of green smoothies, four beautiful children, a live-in Grandmother, and an adorable puppy, Molly, are definitely a modern day family!
Carter instructs the following:
This low impact, no cardio, full-body TRX class focuses on building strength using safe, proper form. Challenge yourself in this rep-based workout by learning how to modify or progress each exercise to fit your body and your needs. This class is accessible for beginners and advanced athletes alike. You will see a difference after only a few sessions!

Classes are 50 minutes. Maximum 13 people per class. Pre-registration highly recommended. Bring a mat, hand towel, and water.